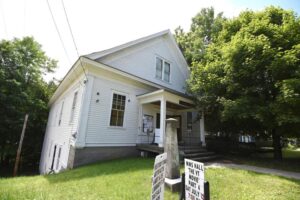 Breakfast at the Williamsville Hall: Thursday, November 16, 8-10:30 AM
This monthly breakfast is complimentary (donations for the Hall are appreciated) and open to everyone. Enjoy homemade pastries, tea, coffee, and orange juice. The Hall, which is ADA compliant, is located at 35 Dover Rd in Williamsville.
---
Since 1910 Williamsville Hall, formerly Williamsville Grange Number 389, has been at the center of village life, and now, after a "dark age" at the end of the century, the Hall is back in action, enjoying new life as a perfect gathering place and site for concerts, dances, fundraisers, auctions, shows, dances, weddings, reunions, potlucks. Recent renovations have produced a Hall that maintains its village charm and historic appeal while serving a contemporary public's needs.
The Williamsville Hall is available to all groups, organizations or individuals on a first-come, first-served basis. (Subject to certain conditions – see our Rental Policies & Fees page.)
The Williamsville Hall Committee encourages your use of the Hall so that this hub of the village may live on as a site for pleasurable events for generations to come. Income from rentals helps the Town of Newfane defray the costs of maintaining the building.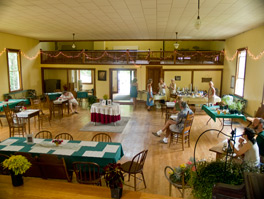 When you rent the hall for your event you have the use of both (handicapped accessible) floors in this charming and historic building built into the steep bank of the scenic Rock River.
The first floor offers a large New England meeting hall with a balcony at one end and a stage at the opposite end. To the left of the entrance are restrooms and a coat room. To the right of the entrance is an area that can be used for a ticket booth or for additional storage of outerwear. The second floor, below, has a spacious dining room, another coatroom, restrooms, and a full kitchen with refrigerator, freezer, and a ten burner gas stove.
To Rent Williamsville Hall for Your Event…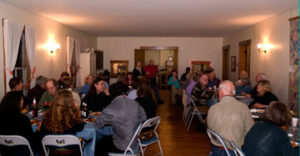 Please contact the Administrative Assistant to the Board of Selectmen of the town of Newfane: Monday through Friday 10:00 a.m. – 4:00 p.m. at the Newfane Town Office (on Route 30), or by phone (802 365-7772), or by email – to make arrangements to see the Hall, if desired, and to rent the facilities.
Renters will be asked to sign a contract and agree to terms of use. All renters, including non-profits, are required to leave a security deposit to assure proper use and clean up of the Hall. Details of these agreements are available on our Rental Policies & Fees page. (Extended or regular use maybe contracted on a case-by-case basis.)